Summer Series Events Calendar
November 2006
Wednesday
1 Nov
Auckland Domain
Cricket Grandstand, The Auckland Domain
Tuesday
7 Nov
Craigavon Park
Connaught St, Green Bay
Thursday
16 Nov
Mt Eden
Tahaki Reserve, 250 Mt Eden Rd, Mt Eden
Thursday
23 Nov
Macleans Park
The Esplanade (Southern end), Eastern Beach
Tuesday
28 Nov
Big King
Three Kings Plaza car park, Grahame Breed Drive, Three Kings
December 2006
Tuesday
5 Dec
Panmure Basin
Panmure Lagoon Sailing Club, 100A Ireland Rd, Panmure
Wednesday
13 Dec
Tamaki - Churchill Park
Kinsale Ave, Glendowie
January 2007
Tuesday
16 Jan
Michaels Ave Reserve
Michaels Ave, Ellerslie
Tuesday
23 Jan
Carrington
Gate 3, Unitec, Carrington Rd, Mt Albert
Wednesday
31 Jan
Lloyd Elsmore Park
Bells Rd, Lloyd Elsmore Park, Pakuranga
February 2007
Thursday
8 Feb
Western Springs
Western Springs Stadium, Stadium Rd, Western Springs
Wednesday
14 Feb
Mt Richmond Domain
1108 Great South Rd, Otahuhu
Tuesday
20 Feb
Self's Farm
Tidal Rd, Mangere South
Saturday
24 Feb
Ambury Regional Park Night Event
Ambury Rd, Mangere Bridge
Wednesday
28 Feb
Alexandra Park Raceway
Campbell Crescent, Epsom
March 2007
Tuesday
6 Mar
Ambury Regional Park,
Ambury Rd, Mangere Bridge
Thursday
8 Mar
Craigavon Park Night Event
Connaught St, Green Bay
Thursday
15 Mar
One Tree Hill
Haydn Ave, Royal Oak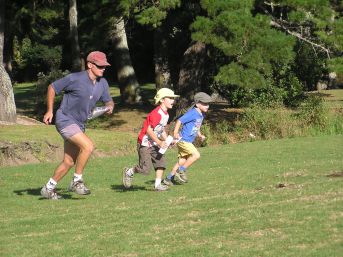 Start any time between 5:30pm and 6:45pm.
Night Events: Bring a tourch. Start any time between 8:15pm and 9:15pm.
You do not need a compass.
Bring walking / running gear.
Remember to lock your car.
Follow instructions on notice board.
Help is always available.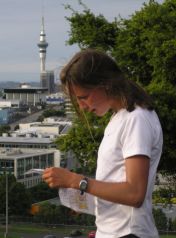 Summer Series Fees
Non-members Fees:

Adults
Students
Family
Daily Fee
$7
$4
$14
Season Ticket
$70
$40
$140
New club Membership + Season Ticket *
$90
$55
$145

Orienteering Club Members:

Adults
Students
Family
Daily Fee
$5
$3
$10
Season Ticket
$50
$30
$100
Club Membership
$65
$40
$90
Season Ticket - all 18 summer series events for the price of 10.
Youth groups: $30 daily for as many maps as you need. Please warn us before bringing a large group.
* Limited special offer for first time club membership only. Download the Club Membership Form (PDF 71KB)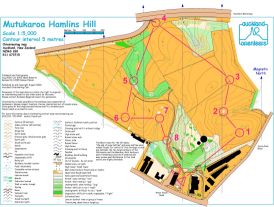 Introduction
The Auckland orienteering summer series is your chance to get out into the parks and recreational areas of Auckland, experience the sport of orienteering, practise map reading, improve your fitness, and visit areas you may not have been to before.
We provide you with:
a high quality park orienteering map
a selection of preset courses
The challenge is: can you plan and follow your best route to visit the points in correct order, taking the least amount of time?
Individuals, families, and groups
Students, adults, and seniors
Walkers, joggers, and running athletes
Everyone is welcome to give it a go.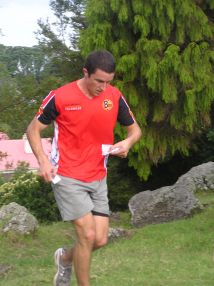 Summer Series Brochures
For online viewing download the 2006-2007 Summer Series Brochure (PDF 118KB).
For printing download the 2006-2007 Summer Series Printable Brochure (low ink use) (PDF 131KB).
The summer series brochure is available at all summer series events. If you would like to request a copy to be sent to you by mail, please contact us with your address and details.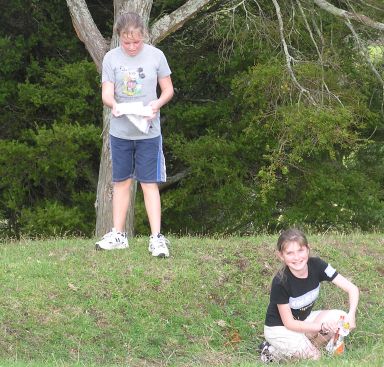 Contacts:
Auckland Orienteering Club Inc.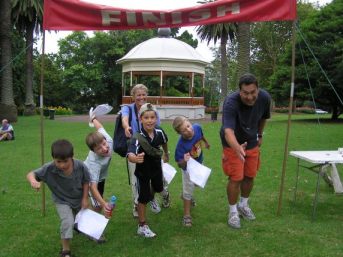 Other Orienteering Events
Orienteering events are run year round. Take to the streets in the night street series. Challenge yourself in the forest, farm, and park events. Experience mountain bike, ski or trail-O. Go to the extreme with rogaine, sprint or the championships.
For a full list of orienteering events in New Zealand, refer to the MapTalk Events Page.
Auckland Orienteering Night Street Series
The night street series events in May and August challenge you to navigate your way around the streets of Auckland. Add a new dimension into your running or walking program.
May Auckland Orienteering Night Street Series
Tuesday 1st, 8th, 15th May 2007 followed by the 3 hour street rogaine on 22nd May 2007.
August Auckland Orienteering Night Street Series
Wednesday 15th, 22nd, 29th August 2007 followed by the 3 hour street rogaine on 5th September 2007.
For full details of the Night Street Series in Auckland, refer to the AOC website.