Auckland Forest Orienteering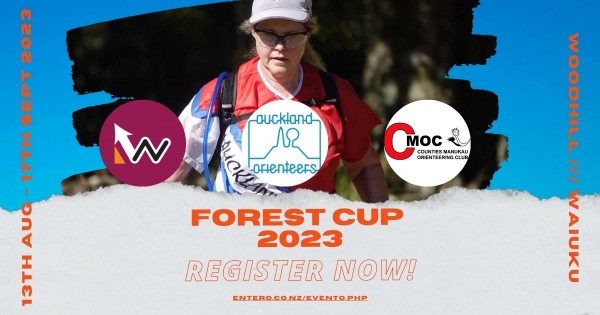 Everyone welcome to this event.
There is a course suitable for evenyone, from first timers up. However, if you want to be competitive in the series please see the details here.
Orienteering normally in Woodhill Forest - an area with awesome intricate sand dune terrain in a open pine forest. Superb orienteering maps. Sometimes on farmland and other forests around the Auckland Region. Always check the website shortly before the event. Access can be prohibited for fire danger, high winds or other circumstances.
Event Details
Orienteering - on Foot - you choose your pace. Usually as individuals but groups can go together.
Orienteering in Woodhill Forest with complex sand dune detail.
All welcome (and you don't need to be a member to get started)
Select from a range of 9 courses of varying length and difficulty. Suitable for all ages, levels, and beginners. Some children need to be accompanied by adult.
You may start any time between 10am to 12:30pm. You are welcome to do do more than one course - please ensure you restart before 12:30pm. Second run is free BUT you must register at computer tent (don't put your second run into the EnterO entry system).
Courses close: 2:30pm unless otherwise stated. Please plan and ensure you return to the finish by course closure time.
Short free string course for youngsters.
WATCH the events listing on the home page of this website for detailed and up to date information. Information can change leading up to an event.
Notices
Read event information on display at registration
Help and getting started advice available at registration. Please ask.
Bring your own food/water. (Occasionally, individuals providing supplemental fundraising snacks may be available).
Orienteering is Smoke Free. Absolutely NO smoking at event or anywhere in forest (including inside car or middle of road).
Compass recommended (limited free hire available).
Carrying a whistle recommended. The recognised distress signal is 6 blasts on whistle. Do not play with whistle as anyone hearing it will abandon their course to try and find you or report to registration.
SPORTident timing in use. (Hire available $3ea)

Important: All participants must punch the finish and download SPORTident card even if they decide not to finish the course.
Directions
Forest Events in Woodhill are sign-posted from Waimauku on SH16.
Forest security gate opens by 9:00am. Stop at gate to talk to security.

Please drive with "lights on" in forest and stay on signed route. No detour from signed route permitted.
Fees
PRE-ENTRY highly desirable - very limited extra maps available
Members (of

any

O club) Adult $20 / Student $10 / Family $50
Non members Adult $40 / Student $20 / Family $100
Woodhill Forest fee $5/pp with $15 max for family
SPORTident hire $3 each.
Under 10 year olds don't pay anything