SummerNav Information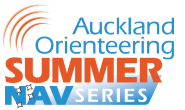 Start any time between 5:30pm and 6:45pm on the day at the location listed in the Calendar.
Course closes at 7:45pm, please be back by then - to give us time to retrieve the controls before dark.
Come along and purchase a map at the registration in the blue caravan onsite. Maps are sold on the day from 5:30pm onwards.
Season tickets are available onsite for entry to all the current seasons SummerNav's at a discounted rate.
Be sure to read the notice boards for updates and instructions.
SummerNav's are not cancelled due to rain.
Wear walking / running gear and consider sun protection.
You do not need a compass, (but you are welcome to practice with one - ask for help).
Respect the environment, plants, animals, other area users, and sports activities. Leave no trace.
On volcanic cones - Don't go through archaeological features such as terraces, pits, ditches, and midden.
Sign up for our emails about SummerNav and results.
Smoke Free. No smoking at any orienteering activities.
Bring a Drink for after your run to avoid dehydration.
As with any activity, consider telling someone your plans and a time to raise the alarm if you haven't contacted them on return. ( adventuresmart.org.nz )
Help is available - please ask us!
New to SummerNav's and sport of Orienteering? Check out the Getting started Guide.
SummerNav Fees
Non-member Fees:


Student

Adult

Family
Daily Fee
$5
$10
$20
Season Ticket to all 18 SummerNav's
$50
$100
$200
New Membership + Season Ticket
$45
$90
$180

Members Fees:


Student

Adult

Family
Daily Fee
$3
$5
$10
Season Ticket to all 18 SummerNavs
$30
$50
$100

Youth groups:

$30 daily for as many maps as you need.
Please warn us before bringing a large group.
Simply call or email us with estimated numbers on each course so
we can prepare enough maps. Thanks!

Green Prescription:

Special rates available.
Payments: We accept cash or cheques onsite. (We do not have onsite credit-card or mobile-eftpos).
Season Ticket/Combo Direct Payments: If you are paying by direct transfer for a season ticket, our bank details are:
Auckland Orienteering Club, Westpac 03-0195-0641747-000
Please include a reference of : SummerNav, Surname, and detail. Thanks.